We are a design agency of choice, working with businesses who have incredible ideas but require the technical resources to make it happen. We help mature their product visions, come up with strategies, identify their needs and subsequently help build tech solutions to boost their ventures.
Create your new brand, logo, website, viral social hit, or next lit piece. Our creative team will make your campaign or organization look good while doing good.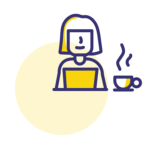 Build or elevate your social media presence with dynamic content that both engages your existing supporters and brings new supporters into the fold.
Create beautiful and smooth UI/UX designs that provide better user experience by incorporating effective collaboration, streamlined projects which strive for better results. 
Build custom websites, microsites, templates, and volunteer tools that truly stand out in a crowded marketplace.
Craft a commanding mobile presence on the App Store and Google Play. We build powerful cross-platform apps for the iPhone, Tablet, and Android. 
Take control of bug fixes, standard maintenance and new features. Your dedicated developer will help you at every stage of maintenance.
Enter info box description
Enter info box description
Enter info box description
Content And Social Media Manager
Interested in working with us?